Every week, millions of us tune in to Shop Well for Less, hosted by presenters Jo Page and Melanie Sykes, for money-saving tips and tricks for families on a budget. In the first episode of Series 5, the team travel to the Malcolm X Community Food Bank in Bristol to road test four steam cleaners in the challenging environment of a busy food bank storage warehouse.

The steam cleaners in the test were a Bush, a Morphy Richards, a Vax and our own H2O HD, ranging in price from £39.99 to £99.99. So which one steam-cleaned best on a floor covered in ground-in ketchup, soil and pasta sauce?

Asked what they hoped to discover in the test, the food bank team told us they were looking for something lightweight and well-priced, that cleaned at a really high level.  After a thorough test drive by the willing volunteers, marking each steam cleaner on ease of use and how well it cleaned, Centre Manager Michelle announced the results.

And the winner was….

…the award-winning H2O HD! Ta da!
The four food bank volunteers all agreed that the H2O HD was well worth the money, and deserved to come out top. Having experienced a variety of problems with the other steam cleaners tested, including unwieldy cables, smudging and cumbersome gliding action, the H2O HD steamed ahead, wiping the floor with the competition!

You can watch the whole episode of Shop Well for Less on the BBC iPlayer (Time saving tip – fast forward to 45 minutes to see the steam cleaner test):
https://www.bbc.co.uk/iplayer/episode/m000yq5g/shop-well-for-less-series-5-1-the-katnoria-family
So what makes the H2O HD such a popular choice?

The lightweight H2O HD 5-in-1 Advanced Steam Cleaner featured on Shop Well for Less makes cleaning your entire home quicker and easier than ever. Using only water, its super-heated steam cleans, sanitises and deodorises floors and carpets. It kills 99% of germs and bacteria without chemicals.
No wonder it has won so many awards.

What's more, the H2O HD 5-in-1 Advanced Steam Cleaner comes with a specific carpet glider, making it easy for you to clean and deodorise both carpets and rugs, before effortlessly switching to hard floor cleaning. The programme's food bank volunteers noticed that the H2O HD seemed to glide better over the floor than the others tested, and they loved the folding handle feature that makes storage simple by reducing the height of the steam cleaner.

It was part of the reason why Ideal Home awarded it their coveted Ideal Home Approved status. As their reviewer noted "This upright steam cleaner boasts a 'why didn't I think of that design' which folds in half for easy storage in smaller cupboards".

And as our hard-working volunteers found, it is so much easier than cleaning your kitchen and bathroom floors with just a mop and bucket. They were amazed how little effort it took using an H20 steam mop.  Not only does it clean your floor without the use of abrasive detergents and chemicals, it kills the kinds of germs and bacteria that your mop and bucket leave behind. Which is especially important in an environment like a food bank.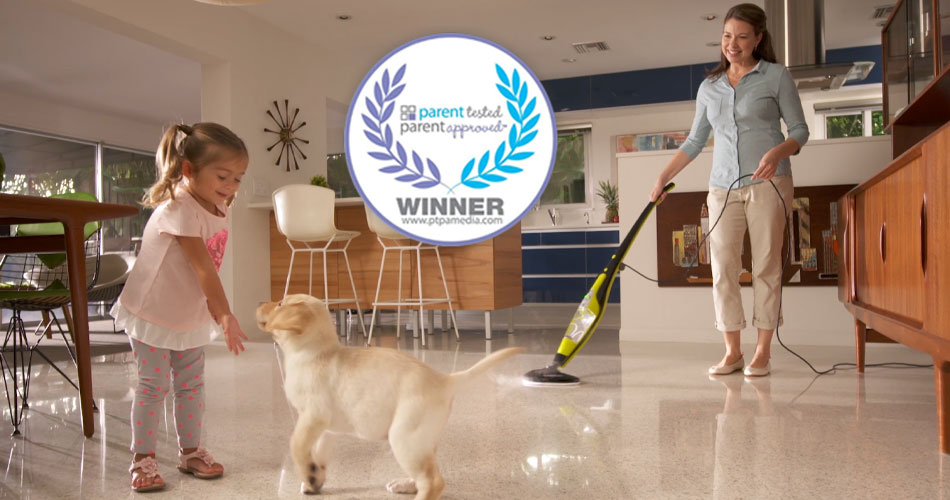 Which is why it was declared a winner by Parent Tested Parent Approved.  Plus, because it's designed to be lightweight, it doesn't give you quite as much of a workout as you get dragging a mop and a bucket of water up and down the stairs!

The H2O HD 5-in-1 Advanced Steam Cleaner isn't just for floors either. It's so versatile you can use it to clean, sanitise and deodorise everything from work surfaces and windows to curtains and clothing.  As the Shop Well for Less volunteer testers discovered, the H2O HD is an outstanding steam cleaner that outperforms the competition. That's why over 13 million have been sold worldwide.
Why not grab yours today?
About BBC One's Shop Well for Less

This popular BBC One programme, now back for the fifth series, features presenters Jo Page and Melanie Sykes setting out to help families save money without changing their lifestyle or spending a fortune.