A Friday night (or any night) takeaway is one of the few pleasures we can enjoy during lockdown. But what if you've started the year on a bit of a fitness kick? Ordering in your favourite fast food isn't the best way to get yourself in shape. So, here are 5 delicious 'fakeaway' recipes designed to give you that tantalising takeaway taste, just with a few less calories. Win-win!
Sweet & Sour Chicken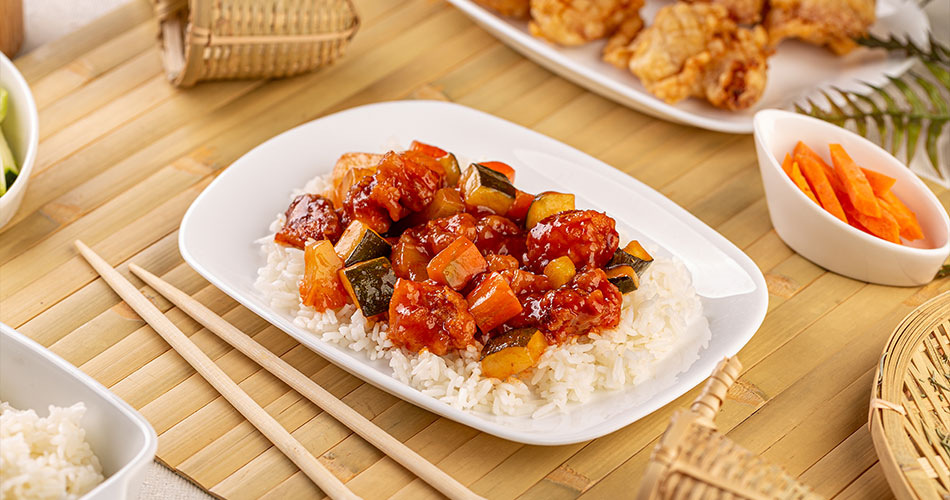 What you need
Vegetable oil
100ml fizzy water
150g self-raising flour
1 heaped tbsp cornflour
8 chicken thigh fillets chopped in half
Bunch of spring onions, finely chopped
1 red pepper, deseeded and roughly chopped
1 red chilli, roughly chopped (deseed it if you like less heat)
1 small can of pineapple chunks
4 star anise
50g tamarind sauce (or brown sauce if you can't find it)
100 sugar
100ml rice wine vinegar or sherry
What you do
Start by making the sauce. Chuck the red pepper and red chilli into your FlavorStone Diamond pan with the juice from the tinned pineapple. Bring to the boil, simmer for 10 minutes, then whizz it all up in a food processor.
Return to your FlavorStone Diamond pan with the pineapple chunks, star anise, tamarind, sugar and vinegar. Simmer for 20 mins or so until it becomes sticky and saucy then pour into a bowl
Wipe out the FlavorStone Diamond pan, then pour in enough oil to completely cover the base of the pan. Mix together the fizzy water, flour and a pinch of salt in a bowl. Sprinkle the cornflour onto a plate.
Roll the chicken in the cornflour, then dip in the batter mix. Lower each piece of chicken into the hot oil and fry for 2-3 mins on each side – do it in batches of 5 or 6. Once golden and cooked, put the chicken pieces to one side, to drain on kitchen paper.
Wipe out your FlavorStone Diamond pan, then pour in the sauce to reheat. Once it's bubbling, assemble your cooked chicken onto a nice platter or plate, pour over the warmed sauce and garnish with the spring onions.
Katsu Chicken Curry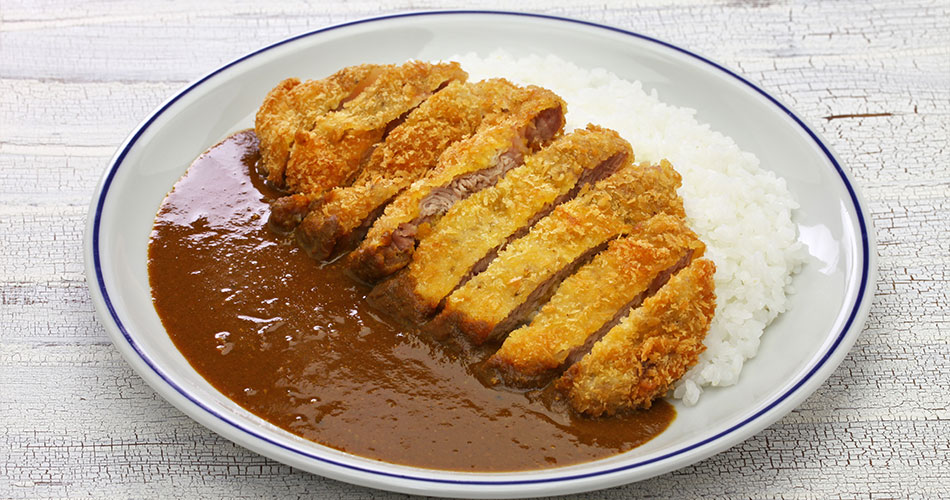 What you need
4 tbsp vegetable oil
2 pouches of ready-cooked rice
½ cucumber peeled into ribbons using a speed peeler
A good handful of coriander leaves
Wedges of lime to serve
For the sauce
1 tbsp vegetable oil
2 medium onions, roughly chopped
2 carrots, finely chopped, plus 1 carrot peeled to ribbons
2 fat garlic cloves, crushed
1 thumb-sized piece of fresh ginger, grated
1 tbsp curry powder
½ tsp turmeric
400ml can coconut milk
2 tsp honey
For the katsu
1 tbsp cornflour
8 chicken mini fillets
200g breadcrumbs
What you do
First, make your curry sauce. Heat the oil in your FlavorStone Diamond pan, then fry the onions and carrots until nicely golden. Stir in the garlic and ginger, fry for a minute then add the curry powder and turmeric. Once the spices have released their aroma, pour in the coconut milk and honey. Simmer for 20 mins over a low heat then blitz in a liquidizer until smooth.
Meanwhile, make the katsu topping. Mix together the cornflour and tbsp water with a bit of seasoning. Pour the breadcrumbs into a second bowl or onto a plate. Dip the chicken pieces into the cornflour mixture, then roll in the breadcrumbs until coated.
Wipe out the FlavorStone Diamond pan, then fry the chicken pieces for 2-3 minutes on each side until golden. At the same time, heat the rice according to the packet instructions. When the rice is done, top with the curry sauce, then the chicken, then garnish with cucumber, carrot ribbons and herbs with lime wedges on the side.
Pad Thai

What you need
125g (half a 250g pack) straight-to-wok rice noodles
Juice of 2 limes
½ tsp cayenne pepper
2 tsp sugar
2 tbsp fish sauce (smells gross but tastes delicious!)
2 tbsp vegetable oil
200g cooked and peeled prawns
Bunch of spring onions, roughly sliced
A good handful of beansprouts
A small handful of salted peanut, bashed up
A small handful of coriander leaves
What you do
Mix the lime juice, cayenne, sugar and fish sauce in a bowl. Get all your other ingredients lined up next to your FlavorStone Diamond pan – this is all about fast cooking!
Heat up the oil and fry the prawns in your FlavorStone Diamond pan until cooked through. Add the spring onions and the noodles, breaking them up as you chuck them in the pan. Now pour in the lime mixture and throw in the beansprouts, coriander and half the peanuts. Toss or stir everything together for a minute or so.
Pile onto a nice platter, sprinkle with the rest of the peanuts then tuck in – it's great with sweet chilli sauce and a squeeze of lime juice.
Easy Fish and Chips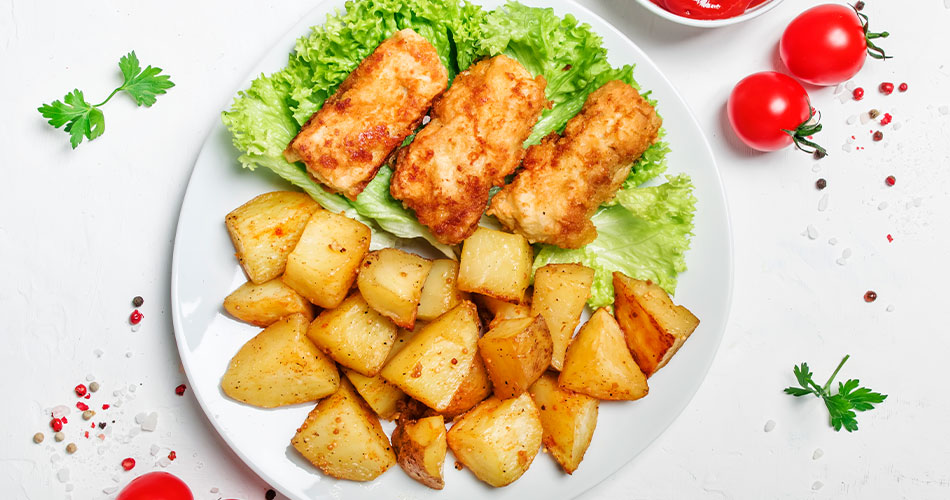 What you need
2 large Maris Piper potatoes, cut into chip shapes
1 tbsp vegetable oil
4 tbsp plain yogurt
2 tbsp mayonnaise
1 gherkin, finely diced
1 fat shallot, finely chopped
1 tbsp finely chopped dill
250g frozen peas
3 tbsp milk
1 tbsp chopped mint
4 white fish fillets
Lemon wedges for serving
What you do
Heat your oven 200C fan
Toss the chipped potatoes in oil and seasoning then roast on your FlavorStone Diamond pan, in the oven, for 20 minutes
Meanwhile, stir together the yogurt, mayonnaise, gherkin, shallot and dill – loosening with a little water if needs be
Next, simmer the peas in a pan with the milk for about 5 mins. Then whizz up in a liquidizer. Season with salt, pepper and add the chopped mint
Add the white fish to your FlavorStone Diamond pan for 10 minutes or until just cooked.
Serve with the yoghurt mixture and the pureed peas and a wedge of lemon
Prawn Tikka Masala

What you need
1 medium onion, roughly chopped
1 thumb-sized piece ginger grated
2 fat garlic cloves
1 tbsp vegetable oil
½ jar of tikka masala curry paste
400g can plum tomatoes
2 tbsp tomato purée
½ tbsp sugar
2 packets of microwave rice
3 tbsp ground almonds
300g king prawns
½ bunch of coriander, roughly chopped, stalks and all
What you do
Whizz up the onion, ginger and garlic in a food processor until you have a paste
Heat the oil in your FlavorStone Diamond pan over a medium heat
Add your paste and fry until lightly golden
Stir in the tikka masala paste and fry for another minute, then stir in the tomatoes, tomato purée and sugar
Bring it to a simmer, pop the lid on and cook for 10 minutes
Pour the sauce into a food processor and blitz until smooth
Stir in the almonds and prawns and cook for 5 minutes until the prawns are warmed through – then season to perfection
Meanwhile, cook the rice according to the packet instructions
Garnish the curry with coriander and serve with the rice, plus some warmed naan if you like
The FlavorStone Diamond pan is great for cooking all sorts of dishes, either on the hob, or in the oven. For more inspiration, visit our complete recipe collection here.